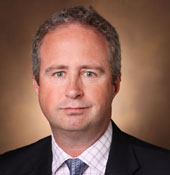 Andrew Shaw, M.B. B.S., a member of FAST BioMedical's medical advisory board (MAB), has been named chief of Vanderbilt's Division of Cardiothoracic Anesthesiology. Dr. Shaw has been a member of FAST's MAB for many years; Medical Director Bruce Molitoris commented that:

"Andy provides unique insights and contributions to understanding the importance of quantifying plasma volume and GFR in treating major surgery, sepsis, and of ICU patients at risk for acute kidney injury and progression of chronic kidney disease. These insights have greatly facilitated FAST BioMedical's efforts to develop enabling technology for health care workers to improve patient care."
FAST BioMedical congratulates Dr. Shaw on his appointment and wishes him well in his new position.