Technology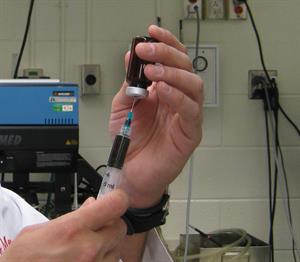 If organs become dysfunctional or go into failure, it is hard to come back around. This is why I like the 2 hours, the first 2-3 hours when someone is unstable is when you do the most work. After that is all supportive care.
- CC/Intensivist on why the timing of FAST BioMedical's technology is attractive
Highlights of FAST BioMedical's Volume Status & mGFR:
Timely
Precise
98.7% R-squared in a regression of Iohexol GFR versus FAST BioMedical's mGFR in dog studies
Convenient
Blood draws routine in clinical settings
No need for urine samples
No radioactive material
Safety and initial efficacy profile were identified in Phase 1 study
How it Works:
FAST BioMedical's technology works by measuring concentrations of fluorescent in vivo markers over time. A small bolus IV injection of VFI comprised on two different fluoresced molecular weight markers is injected into the patient. The larger marker is retained in the vascular space and is used to determine volume status. The smaller marker is freely filtered by the glomerulus and is used to determine renal clearance.
Three (3) low volume (<1mL) blood samples are taken over 120 minutes. The first sample, at 15 minutes, determines volume status. Each blood sample's fluorescence is quantified and used with proprietary algorithms to calculate volume status and mGFR.
INVESTIGATIONAL PRODUCT NOT APPROVED FOR HUMAN USE